In recent years, there has been an increase in the use of audio files rather than hard copy formats. Students, educators, and staff are able to download audio files such as recorded lectures online and listen to them on computers, tablets, and mobile devices. They can also download articles, lecture notes, or create their own study notes on the computer, convert them into electronic audio files, and transfer to portable listening devices.
There are a variety of different formats in which audio information can be stored, and each having their own advantages and disadvantages depending on the applications being used. Below are some of the common formats for use with spoken audio, as a means of accessing information for people who prefer auditory learning, or who have visual impairments.
Types of Electronic Audio Files
MP3
Developed by the Moving Pictures Expert Group (MPEG)
Compressed audio—which means a trade off in the quality of sound or file size
Can store additional info such as authors and track names to assist students in organizing their files
Enables some navigation—If a student recorded a lecture, they can navigate between tracks on a CD
Can be played on a computer, device, or CDs
WAV
Stands for Waveform Audio Format
Has a large audio file size which may not be suitable for recording long lectures, or transfers over the internet (approximately 10Mb for 1 minute)
Offers good uncompressed audio quality. This is beneficial if students want to provide samples of music for others to work on and don't want to lose the audio quality, or if younger children are learning to pronounce letters/words and need quality audio
Suitable for access via a computer and device, but not suitable for CDs
WMA
Windows Media Audio created by Microsoft, and is part of the Windows media framework
Compressed audio format that has a high resolution and is suitable for recording your voice/ music; created to compete with MP3
Older versions of MP3 players may not support WMA files
DAISY
Stands for Digital Accessible Information System
Designed with accessibility in mind
Enables multimedia/ multi-format presentations
Provides ease of navigation
Utilizes MP3 audio compression
DAISY format is described in further detail on the SNOW section on DAISY format.
Important considerations when using electronic audio formats
Students may use tablets and mobile devices or digital audio players to access information. The accessibility and usability of the device must be determined to make sure it is a good match for a unique student's needs.
Some tablets or mobile devices (or the apps on the devices) may not be accessible or easy to use for certain students. Some digital audio players have inaccessible features and as a result, some students with disabilities may experience challenges with accessing these players.  Due to the portability of audio players, some feature very small buttons or digital displays, which may not be accessible. However, progression in technology means there are already mainstream audio players which provide verbal feedback or tactile buttons, enabling students who have difficulty seeing or manipulating audio players the same access to the latest technology along with their peers.
Some students and educators/staff may be new to accessing and using various technology, therefore, support and training may be required to feel comfortable with the move from analogue to digital audio.
How It Relates to the AODA legislation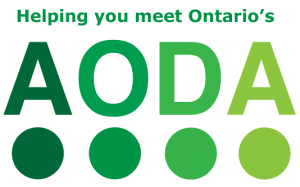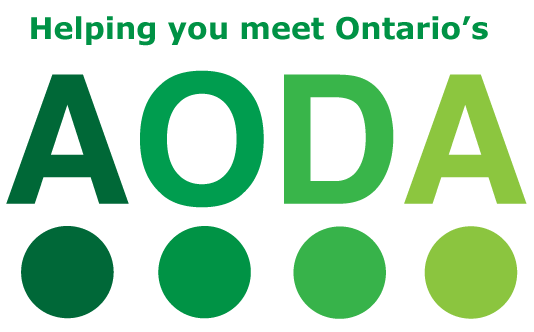 Electronic Audio File relates to the following sections of the Accessibility for Ontarians with Disabilities Act (AODA) Integrated Accessibility Standards, specifically some of the following sections in the Information and Communication Standards:
In the Ontario public education system, the Alternate Education Resources of Ontario service of the Provincial Schools Branch provides alternate formats like electronic audio files, which helps schools in meeting AODA requirements.
AODA Significance
Electronic Audio Files are auditory versions of printed documents and provides individuals with an alternative way to access information and educational resources.  Alternative formats refers to information that is communicated in a manner other than standard text, including Electronic Text, Audio, Captioning and Braille.
People interact, learn and communicate in diverse ways. Learning opportunities are increased when flexible ways of engaging with learning materials are provided. Considering how people communicate is important for knowledge to be exchanged. Alternative formats take into account diverse ways of exchanging information.
The AODA legislates that educational institutions and its employees know how to produce accessible or conversion ready versions of textbooks and printed material and be knowledgeable at interacting and communicating with people with disabilities who may use alternate formats and devices.
Additional Resources
To learn how this section relates to the core principles of the AODA Customer Service regulation, visit the AODA page on SNOW.
To learn of ways to innovate, develop, and design for accessibility, visit OCAD University's Inclusive Design Research Centre (IDRC) website and the IDRC's floe project website.